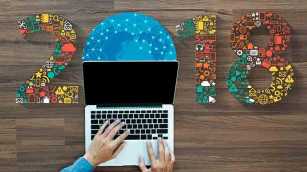 In this article, we look at graphic design trends. Graphic design covers a broad range of different design disciplines. These include logo design, branding and corporate identity, typography, marketing materials, image retouching and signage.
In the era of digital art, graphic design trends are changing all the time with some trends standing the test of time. While others disappear as quickly as they emerge. So what does 2018 hold for us in terms of graphic design trends?
Imaginative designs and crazy effects
2018 will be the year of crazy effects. From the glitch effect to the colour effect. The glitch effect is where an image appears to be corrupted, this can be achieved through distorting the image. This is done by mixing up colour hues and anything else you can think of to disrupt the image to make it look as if it has a glitch.
While this has been a popular method in the world of horror for years, it is set to become more mainstream. With many brands adopting glitch effect graphic design techniques in their marketing campaigns.
Giving a futuristic feel, the colour effect is the process of playing with the colour channels to create illusional effects. Such as a holograph, hallucination or distorted reality. Expect to see lots of these effects appearing in graphic design in 2018.
Creative typography in Graphic design
Typography seems to be a trend that isn't showing any signs of going anywhere soon. In 2018 designers will be getting even more creative with it. Whether used as a stand-alone design or combined with other techniques. Typography can be impressive and engaging.
The more creative the better in 2018. Expect to see chaotic typography – the practice of disrupting the alignment and order of letters and words. Additionally, cropped typography, where parts of the letters are erased while still keeping their readability.
Bold is back
Bolder, braver colours are set to make a return to the spotlight in 2018. In recent years they have been cast aside in favour of softer shades, pastel colours and natural hues. But they are back and set to be bolder than ever before. Think bright blues, deep pinks and bold reds.
Adopting bold colours as part of your graphic design is an effective way to be seen. Whether a printed poster or social media posts. Imagery that features bright and bold colours captures the eye and is a great way to engage your audience.
Back to the future
As children of the 80's and 90's become more influential as brand leaders and key target audiences, designers are adding a touch of the past in their latest designs. Electric hues and geometric patterns are to feature throughout designs in 2018.
About Blackberry Design
Blackberry is a creative design agency. We work with businesses in Redditch, Worcester, Birmingham, the Midlands and nationally. We help our clients build strong brands that can create loyalty and add value.
Blackberry has the creative skills and expertise to deliver quality graphic design. We create graphics that can help establish new or grow your existing brand, refresh your corporate identity, or create effective marketing materials to promote your business.
If you have any questions or want to know what Blackberry Design can do for your business. Get in touch on 01527 517309 or fill in our contact form.