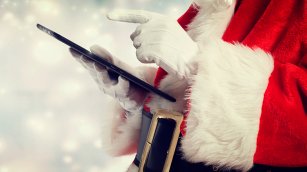 Despite the decorations popping up in the shops as early as October, many of us do not feel it is really Christmas until we have seen the latest Christmas marketing adverts from the big brands. Sainsbury's, Aldi and John Lewis are often top of the polls in brands who have the best marketing campaigns.
If we are talking about Christmas marketing campaigns we must talk about the famous Coca-Cola 'Holidays are coming' campaign. Possibly one of the most iconic Christmas marketing campaigns, it has provided Coca-Cola with a winning formula that has needed little tweaking throughout the years.
As synonymous with Christmas as Santa himself, there is no denying the festive period is upon us once we see the red trucks and hear the chant of holidays are coming. Loved by all ages it is possibly one of the best Christmas marketing campaigns ever, but there has been some good competition this year that certainly deserves a mention.
Pepsi: Try a new tradition this Christmas
While we are on the subject of fizzy drinks, Pepsi's latest advert invites people to 'Try a new tradition this Christmas'. The advert shows the opposite of a traditional Christmas, with people enjoying surfing in the dark while a rather indie version of Jingle Bells plays and ends with the try a new tradition slogan.
While not a particularly festive advert, no catchy music and no mention of Santa or his reindeer, it is quite a clever advert. The advert suggests doing something different at Christmas, something out of the norm and could not be more different from the Coca-Cola campaign – which is great. By inviting people to try a new tradition this Christmas, Pepsi is reminding consumers that alternatives to Coca-Cola are available and why not break tradition with Pepsi this year.
John Lewis: Moz The Monster
While the Moz The Monster advert may not be the best Christmas advert from John Lewis, it still tells an endearing story of a little boy building an unlikely friendship with the monster that lives under his bed. Staying up all night to play with his new friend means the boy is falling asleep during the day, but Moz has a solution.
On Christmas morning the little boy finds a messily wrapped present under the tree, he opens it to discover a night light from Moz. Later when the boy is in bed he waves goodbye to Moz and turns the light on. Peeking under his bed he sees Moz has gone and now he can get some sleep, but once he turns the light off we hear Moz is back.
Aldi: Kevin The Carrot
This advert has it all, charming characters, festive traditions, love, humour and film references – what's not to love about this year's Christmas advert from Aldi featuring Kevin The Carrot and friends. It is no wonder that Aldi's contribution has been crowned the number one Christmas advert of 2017, beating off big names such as Marks and Spencer and John Lewis.
Audiences love a good story and the continuation of Kevin The Carrots story has been heartwarming. It would seem that Kevin has found a place in people's hearts, have Aldi found their winning formula, just like Coca-Cola did? I wonder if we will be seeing Kevin again next year? maybe with some baby carrots in tow.
About Blackberry Design
Blackberry is a creative design agency. We work with businesses in Redditch, Worcester, Birmingham, the Midlands and nationally. We help our clients build strong brands that can create loyalty and add value.
If you have any questions or want to know what Blackberry Design can do for your business. Get in touch on 01527 517309 or fill in our contact form.