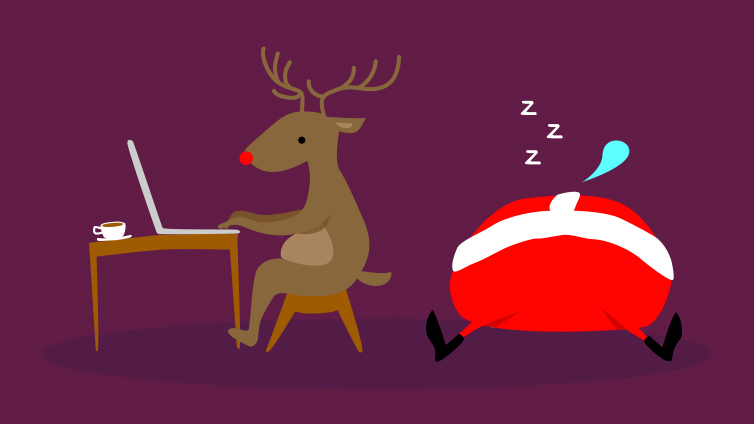 In this article, we look at top tips for your Christmas email marketing campaign. Email marketing is an effective strategy to promote your business all year round. A well-designed and implemented Christmas email marketing campaign can yield great results. As the festive period approaches your customers are likely to receive an influx of marketing emails. Ensuring your emails stand out is key to a successful Christmas email marketing campaign.
Your Christmas email marketing campaign should be helpful and relevant, and not too sales-orientated. Here are our top tips for creating a Christmas email marketing campaign. Follow these to help your business stand out from your competitors.
Get into the Christmas spirit
Grab your customer's attention with seasonally themed messages and designs. Think how you could incorporate festive puns, keywords, and wordplay into subject lines. This will help you get noticed in crowded inboxes. Adding personality to your emails will help trigger engagement with your customers. In turn, this will increase open rates.
Christmas is the time of giving. Consider adding an incentive to your emails. Including a discount or special offer can help increase open rates. Incentivising your Christmas email marketing campaign should lead to an increase in sales and leads. It will prove to your customers that you value them and reward their loyalty.
Personalise Christmas email marketing
Get the most from your Christmas email marketing campaign by adding personalisation. Using customers names and purchase history will help improve engagement. Adding personalisation will help your emails seem less sales-orientated than generic emails. It will help you stand out from the competition.
Go the extra mile
Sometimes sales are not won by having the better offer, but by being the business that offers a little more. Think of ways you can give your customers more during the festive period. You could offer free delivery or express delivery for a limited time.
You can include tips to help customers prepare for Christmas. While that may not be on topic for your business, it will be useful to your customers. Going the extra mile shows your customers you care. Remember, as the old adage goes 'people buy from people'.
Be mobile friendly
Mobile users are embracing anywhere, anytime email delivery – and so should your business. Your Christmas email marketing campaign should be optimised for mobile. You need to ensure you are making the most of the opportunity. Make sure your content and messages view correctly across multiple devices.
Learn from Christmas past
Use data you have from previous Christmas email marketing campaigns. You can see what worked well and what didn't work so well. Understanding how your customers responded previously will help you develop an effective campaign.
Keep it social
Make sure you include links to your social channels in your email. Look to integrate your email marketing campaign with your social media campaign. Linking both channels can boost your results. Targeted social media advertising could help you reach potential customers. You should increase sign ups to your emails.
About Blackberry Design
Blackberry is a creative design agency. We work with businesses in Redditch, Worcester, Birmingham, the Midlands and nationally. We help our clients build strong brands that can create loyalty and add value.
Got any questions about your Christmas email marketing campaign? Speak to Blackberry Design to see what we could do for your business. Get in touch on 01527 517309 or fill in our contact form.